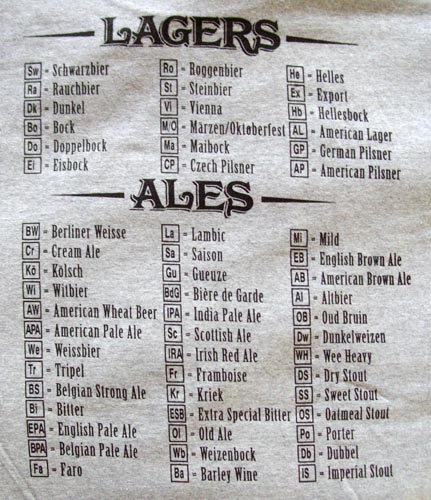 BEERIODIC TABLE T-SHIRT
For beer and chemistry geeks, this shirt is elemental! 58 beer styles are displayed, textbook symbol style, on the front of the shirt. They're categorized by ales and lagers and organized by the traditional color and alcohol strength of each beer style. The symbols are defined on the back.
The particulars ...


Beeriodic Table T-shirt

Gray (photos above) or green (front of the shirt is in the photo to the right)
XXL (gray or green), $22.95; XXXL (gray only), $22.95
| | |
| --- | --- |
| Unless otherwise stated, we typically have these items in stock. To check our current inventory, please e-mail or call us toll-free at 888-382-GIFT (4438). Or if you prefer ... | |
---
EXPOSE YOURSELF TO GOOD BEER T-SHIRT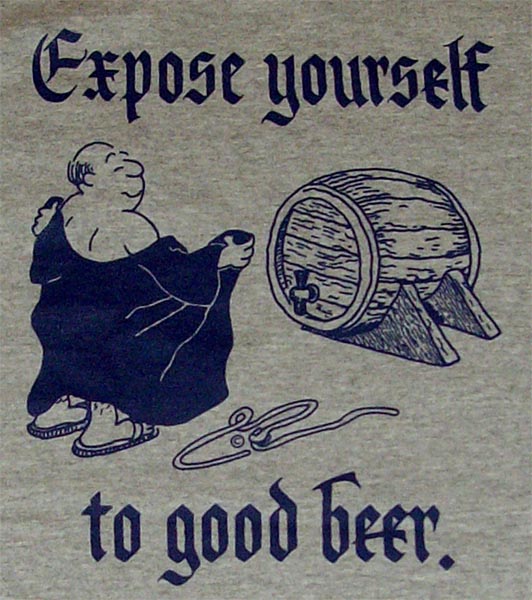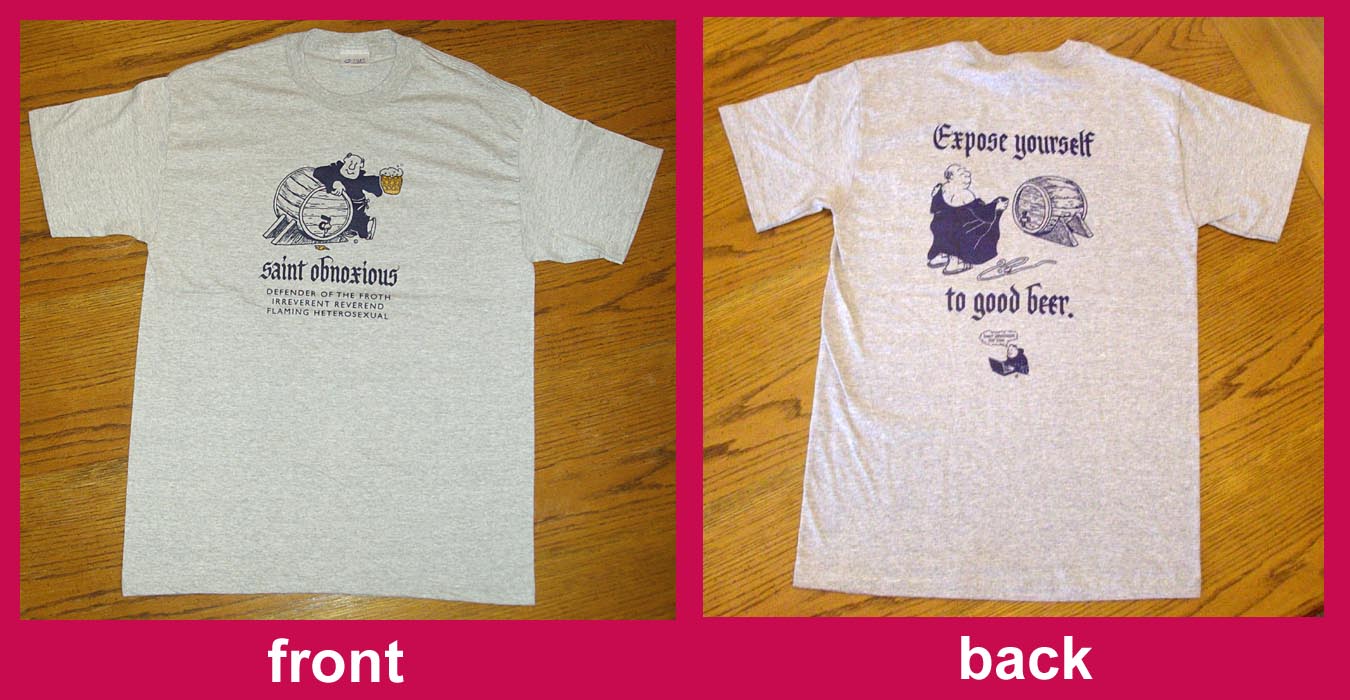 This shirt features Saint Obnoxious, the patron saint of GOOD beer, on the front and his ... uh, exposition on the back! (Click on the photos for a closer look.)

The particulars ...

Expose Yourself to Good Beer T-shirt

Unisex T-shirt

Adult M - XL, $19.95; XXL, $22.95
| | |
| --- | --- |
| Unless otherwise stated, we typically have these items in stock. To check our current inventory, please e-mail or call us toll-free at 888-382-GIFT (4438). Or if you prefer ... | |
---
MAKE BEER, NOT WAR TANK TOP

This shirt says it all, so we'll leave it at that.

The shirt features "Make Beer, Not War" on the front and the a "Pilsner glass peace sign" on the back. (Click on the picture for a closer look.)

The particulars ...

Make Beer, Not War tank top

Olive drab shirt
Adult S - XL, $19.95
| | |
| --- | --- |
| Unless otherwise stated, we typically have these items in stock. To check our current inventory, please e-mail or call us toll-free at 888-382-GIFT (4438). Or if you prefer ... | |
---
POURtland T-SHIRT

Forget all that stuff about a coin flip in the 1850s -- THIS is why our fair city really earned its name!

woodbloom's® newest shirt design is also the most thirst-quenching!

The shirt features a left-chest emblem on the front and props to beer, wine, martini and even coffee drinkers on the back. (Click on the picture for a closer look.)

The particulars ...

POURtland T-shirt

Black shirt
Adult S - XL, $19.95; XXL & XXXL, $22.95
| | |
| --- | --- |
| Unless otherwise stated, we typically have these items in stock. To check our current inventory, please e-mail or call us toll-free at 888-382-GIFT (4438). Or if you prefer ... | |
Hop Field of Dreams T-shirt

Oregon's notariety as a center of microbrewing and hop growing converge in our love of big, puckery, tart beers. This t-shirt celebrates the hop fields and the brews that are enhanced by them.

The particulars ...

Hop Field of Dreams T-shirt

style: imprinted
sizes: unisex adult S, M, L, XL, XXL
color: white
$12.95 (XXL $14.95)

| | |
| --- | --- |
| Unless otherwise stated, we typically have these items in stock. To check our current inventory, please e-mail or call us toll-free at 888-382-GIFT (4438). Or if you prefer ... | |
---
TEES THAT TEASE!

We carry T-shirts sure to make even a curmudgeon crack a smile. The shirts are silk-screened and are either black or white, depending on the shirt. All come in adult sizes S through XXL; a couple also come in kids sizes. Check back often as our lineup of crack-ups frequently grows.

The particulars ...

Tees That Tease!

"Dark Side"

Black shirt
Kids S - XL, $12.95
Adult S - XL, $13.95, XXL $16.95

"Drama Queen"

White shirt
Kids S - XL, $12.95
Adult S - XL, $13.95, XXL $16.95

"Go To Hell"

Black shirt
Adult S - XL, $13.95, XXL $16.95

"I'm Only Wearing Black"

Black shirt (obviously!)
Adult S - XL, $13.95, XXL $16.95

"Procrastinate"

Black shirt
Adult S - XL, $13.95, XXL $16.95

"Whatever"

Black shirt
Adult S - XL, $13.95, XXL $16.95

"When I Turned 40" (or 50, or 60)

Black shirt
Adult S - XL, $13.95, XXL $16.95

"My Opinion"

Black shirt
Adult S - XL, $13.95, XXL $16.95

"Manure Occureth"

Black shirt
Adult S - XL, $13.95, XXL $16.95

"Keep Portland Weird"

Black shirt
Adult S, L, $19.95
(also comes as a bumper sticker for $2.00)

"Dyslexics have more FNU"

Black shirt
Adult S - XL, $13.95, XXL $16.95

"Everyone is born righthanded ..."

Black shirt
Adult S - XL, $13.95, XXL $16.95

"Sometimes I wonder ..."

Black shirt
Adult S - XL, $13.95, XXL $16.95

"Sofa King Cool"

Black shirt
Adult S - XL, $13.95, XXL $16.95

"Always late ... but worth the wait."

Black shirt
Adult S - XL, $13.95, XXL $16.95

"Heck is where people go
who don't believe in gosh"

Black shirt
Adult S - XL, $13.95, XXL $16.95

"Boldly going nowhere"

Black shirt
Adult S - XL, $13.95, XXL $16.95

"You never see a motorcycle parked outside of a psychiatrist's office"

Black shirt
Adult M - XL, $16.95

"Subtlety creates confusion"

Black shirt
Adult S - XL, $13.95, XXL $16.95

"I would do me"

Black shirt
Adult S - XL, $13.95, XXL $16.95

"Growing old ..."

Black shirt
Adult S - XL, $13.95, XXL $16.95

Our Portland Gear line of shirts and caps are also lots of fun.

| | |
| --- | --- |
| Unless otherwise stated, we typically have these items in stock. To check our current inventory, please e-mail or call us toll-free at 888-382-GIFT (4438). Or if you prefer ... | |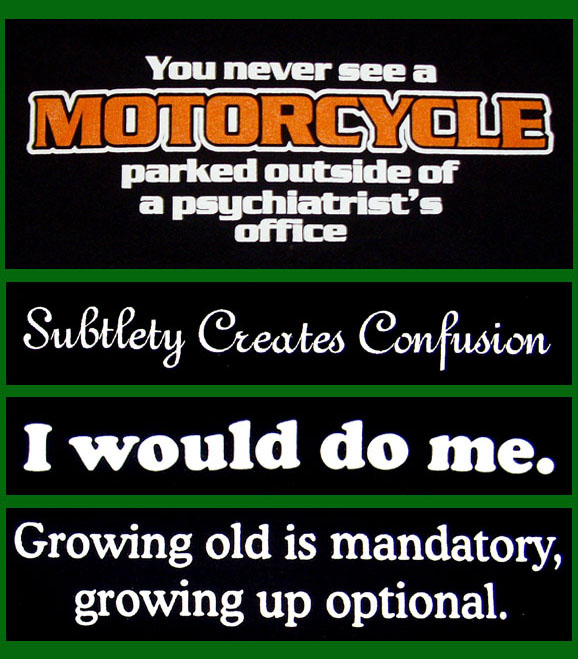 ---