Isn't it
about time for

TWELVE TIMBERS?




&nbsp
&nbsp
&nbsp
&nbsp
&nbsp
&nbsp
&nbsp
&nbsp
&nbsp
&nbsp
&nbsp
&nbsp













EVERYDAY CARDS, POSTCARDS AND POSTERS

woodbloom® carries hundreds of cards. Some are beautiful, others practical and many are just plain funny.

We also carry Portland and Oregon picture postcards and the two types of more unusual postcards you'll see below.

To see holiday cards or other stationery products, click on the links below. If you're looking for cards that are definitely not mass-market, please scroll down!

---

Everyday cards Holiday cards Stationery products
---
NORTHWEST RETRO POSTERS, POSTCARDS, MAGNETS & SHIRTS by Paul A. Lanquist
Northwest artist Paul A. Lanquist takes a throwback approach to his depictions of Northwest landscapes and lifestyles. It's Art Deco with a liberal use of earthtones which makes for a rich, understated look.
The particulars ...
Northwest Retro Posters:
Northwest Retro Postcards:
Northwest Retro Magnets:
Northwest Retro T-shirts:
| | |
| --- | --- |
| Unless otherwise stated, we typically have these items in stock. To check our current inventory, please e-mail or call us toll-free at 888-382-GIFT (4438). Or if you prefer ... | |
---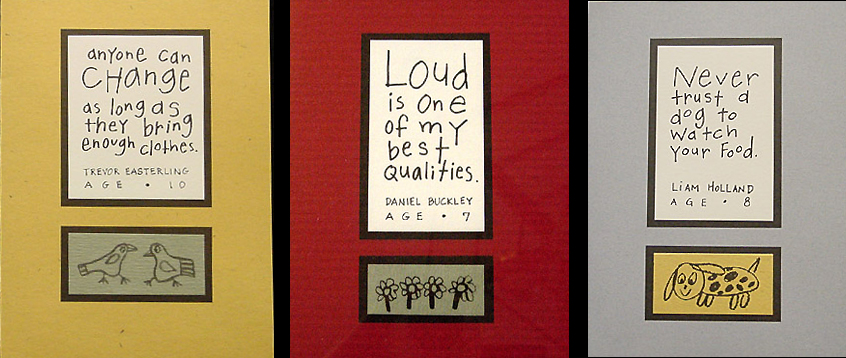 From the mouths of babes can spring wisdom, insight or just plain funny stuff! Graphic artist Kate Harper collects youthful witticisms and immortalizes the sayings and those who said them on greeting cards. They're great for birthdays, weddings, and even for saying "I'm sorry."
We have selected cards from Kate's original, handmade series of these cards. They are no longer produced in this painstaking way.
If you've got a precocious youngster who says the darnedest things, click here to submit your kid's quote to Kate.
We carry Kid Quotes and several other cards from Kate. All of them combine simple graphics, catchy colors and humor.
The particulars ...
Kate Harper Cards

Art: simple lines, bold colors
Sentiment: usually humorous, either childlike or perhaps sarcastic
Inside: blank
Specific types: anniversary, birthday, Father's Day, Mother's Day, romance, thank you
Different cards in stock: about 20. Click here for a current list.
$3.00 - 3.50
| | |
| --- | --- |
| Unless otherwise stated, we typically have these items in stock. To check our current inventory, please e-mail or call us toll-free at 888-382-GIFT (4438). Or if you prefer ... | |
---
Diane English decided to sell her metaphysical bookstore several years ago and turn her doodling into a career in card cartooning. The result: well, she calls herself "The Great Cosmic Happy-Ass" designing cards for "the marginally enlightened and the spiritually challenged."

How a card line can be both irreverent and spiritual is a sight to behold ... or to be laughed at! We carry both cards and magnets with Diane's comically cosmic images on them.

The particulars ...

Great Cosmic Happy-Ass cards

Art: colorful, daffy
Sentiment: sometimes inspirational or uplifting; more often humorous and laugh-out-loud funny
Inside: blank
Specific types: inspirational, keep-your-chin-up, wordplay/puns
Different cards in stock: about 20 (and about 10 magnets)
cards: $2.95; magnets: $4.95

| | |
| --- | --- |
| Unless otherwise stated, we typically have these items in stock. To check our current inventory, please e-mail or call us toll-free at 888-382-GIFT (4438). Or if you prefer ... | |
---
Oregon cartoonist Jillyn Chang's BeanletsTM characters make for some of the cutest birthday and thank you cards you can give. We're happy to be one of the few stores and Websites which offer these adorable cards.

The particulars ...

Jillycards

Art: colorful cartoon characters
Sentiment: cute, even quaint
Inside: blank
Specific types: happy birthday, thank you
Different cards in stock: 8
$2.95

| | |
| --- | --- |
| Unless otherwise stated, we typically have these items in stock. To check our current inventory, please e-mail or call us toll-free at 888-382-GIFT (4438). Or if you prefer ... | |
---